Buying and selling Santa Monica, CA real estate simultaneously can be nerve-wracking and hectic in normal times. Now, add to it the super-heated market that Santa Monica and the entire Los Angeles area have been in for months, and your head could be spinning.

Prices are high, the inventory of homes is tight, and it seems like everyone else is out there looking for a house, too. Mortgage interest rates remain low, giving people the impetus to buy a home before they begin going up. Although real estate experts say housing prices in Southern California could begin to ease later this year or in 2022, no one really knows for sure. So, how do you approach this scenario?

Before getting too worked up and worried, take a deep breath. The first step is to hire a great real estate agent who is well-versed in this market and what it takes to not only sell a home for top dollar, but also to get that client into another home. As you probably learned from previous real estate transactions, your real estate agent will be your best friend from the beginning of the process until the very end, whether it's selling a home and receiving the settlement payment, or buying a home and having the keys in your hand.

Find an agent who knows the ins and outs of handling Santa Monica real estate for sale and understands how special it is to live in this beachside community. Get some references from friends, family, and colleagues who have recently bought or sold homes, and check online reviews. Interview a handful of candidates, ask them to spell out their successes during the last one to three years -- when the market has been both down and up -- and how they will handle dual transactions for you.

At a certain point, you'll know which agent is going to be right for you. Enter into an agreement, and it's time to get going.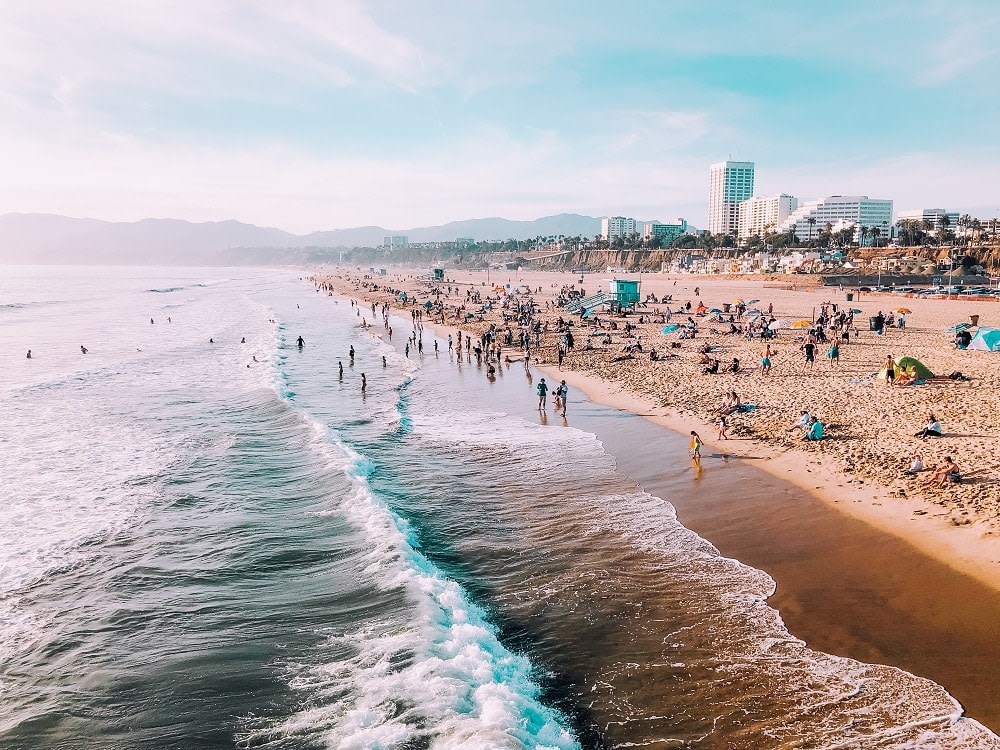 Market Scene
First, let's take a look at the market for Santa Monica, CA real estate. By now, you're probably heard about desperate homebuyers all over Southern California making offers for above the listing price and entering into bidding wars in order to land a dream home. According to Zillow.com, the median home value in Santa Monica is currently $1,820,776, an increase of 5.3% during the last year. There was a downturn last fall, but prices have risen since then.
Strategies
Once you've hired an agent, sit down and talk over what makes the most sense in today's market -- to sell your current home first and then use the proceeds to fund the down payment on a new house, or, if you have the financial ability, to take out another mortgage and buy a new home first and then put your current home on the market.

There are advantages and disadvantages to both. For instance, even if you sell your house for a great price, you might have a hard time getting an offer accepted for a new home, or if you buy a home first and then have any kind of hang-up with the sale of your current home, you could be paying two mortgages at the same time.

However, good planning and listening to your real estate agent will help you deal with the dual processes. The good news is, your real estate professional can represent you in both selling and buying, and he or she will know what comparable houses have sold for in recent months. Either way, you should be prepared for things to move quickly.
Selling Your House
Once you've decided to list your Santa Monica real estate for sale, begin preparing it by decluttering, cleaning, staging your furniture, and spiffing up the front yard and porch to increase the curb appeal.

You'll also need to undertake any cosmetic repairs to make your home attractive. Remember, even in a hot market, you are competing with other sellers for top-dollar offers. If your home doesn't give potential buyers a "wow" factor, they'll either try to lowball you or move on to look at the next house on their list. Also get all paperwork together, including disclosures.

Once your house is listed, let prospective buyers know a time and date when all offers need to be submitted. The best offer might not always be the one for the most money, either. Sometimes those offers have potential hang-ups, such as shaky financing or contingencies that could hold up a deal. Your seasoned agent knows what red flags to look for.
If you get an offer you really like but still need time to find another home, have your agent negotiate with the buyer's agent to allow you to rent back the home for a few months in exchange for reducing the price or making other concessions.
Buying
One way to get ahead in the process of selling and buying Santa Monica, CA real estate simultaneously is to have an idea of what neighborhood you want to move to and what price range you think you'll be able to afford. Your agent should be able to give you a ballpark figure of what your current home will sell for and how much you'll be able to spend on a new house.

Go ahead, and start viewing houses for sale in order to get an idea of what's out there. At the same time, get pre-approved for a mortgage for your new home. A pre-approval letter lets sellers know that your financing is solid and it's less likely that deal would fall through during closing.

When you make an offer on a new home, try to keep it free of contingencies in order to make it more attractive. However, you could negotiate with the seller. If they are also looking for a new home, make a strong enough offer that they would rent back the home from you while you finalize the sale of your current home. There could be setbacks and disappointments, but keep trying. Above all, stay in constant touch with your agent.

If you plan to buy or sell Santa Monica, CA real estate in 2021, contact Tracey Hennessey for top-notch client services.