Blue Plate Oysterette
For a good time consisting of frozen libations and fresh oysters, head to Blue Plate Oysterette. This upscale-casual restaurant serves up East coast classics in the West, offering patrons tasty dishes with a beachfront Santa Monica view. The raw bar menu boasts ceviche mixto, Santa Monica sashimi, and chef's choice of oysters served with French mignonette and "rowdy" cocktail sauce. Share the decadent Mother of Pearl seafood tower with a friend or two, featuring one whole Maine lobster, 12 oysters, 6 prawns, and 3 ounces of fine Siberian caviar.

Follow up the raw delights with some creamy New England clam chowder and a classic lobster roll. Cool off on a hot Socal day with a refreshing Blue Plate Boozy Pop, which is essentially the adult version of an Otter Pop! If you want to grab some takeout for your family on the way home from work, purchase a family meal. These to-go meals accommodate four and include lobster roll, Ora king salmon, and shrimp skewer options. Whether you drop by for a boozy brunch, an afternoon snack, or grab a dinner to-go, Blue Plate Oysterette is a must-visit!
ONYX Rooftop Bar
Shangri-La hotel's ONYX Rooftop Bar is a stunning lounge with Art Deco decor and world-class ocean vistas. ONYX provides patrons with a posh setting encapsulating Hollywood glamour and beachside style in one. The menu features thoughtfully crafted small plates and creative cocktails.

Feast on some shrimp cocktail and the tower of fries with some friends, featuring steak, truffle, herbed, and sweet potato fries. If you're keeping carb-conscious, snag some chicken lettuce wraps instead. Pair your bar treats with a tasty ONYX cocktail. The La Dolce Vita is a fresh, California-style gin gimlet, while Goldfinger is made with blood orange vodka, fresh-squeezed blood orange juice, lime, and lemon juice. Whichever snacks and drinks you choose, you're sure to have a fun and tasty time in Santa Monica's only open-air, rooftop cocktail lounge.
Interstellar
Breakfast, brunch, happy hour, and dinner, too - Interstellar offers a laid-back atmosphere for diners to enjoy Korean-fusion dishes. You'll be delighted knowing breakfast is served all day, giving you the option to savor prime ribeye steak and eggs at any time, complete with black truffle butter, three eggs any style, Sichuan chimichurri, and toast. The breakfast truffle linguini is a decadent way to start the day, while a plate of avocado toast is an Angelino favorite.

Stop by from 3-5 pm for happy hour to sip on discounted beer, sake, or mixed drinks, and nosh some chips & guac and spicy truffle-infused edamame. Bring your dog along on your dinner date to scarf down wagyu beef with market veggies and fruit while you enjoy a Korean galbi bowl. Finish with some churros + gelato for a perfect end to your patio dinner with a Pacific Ocean view.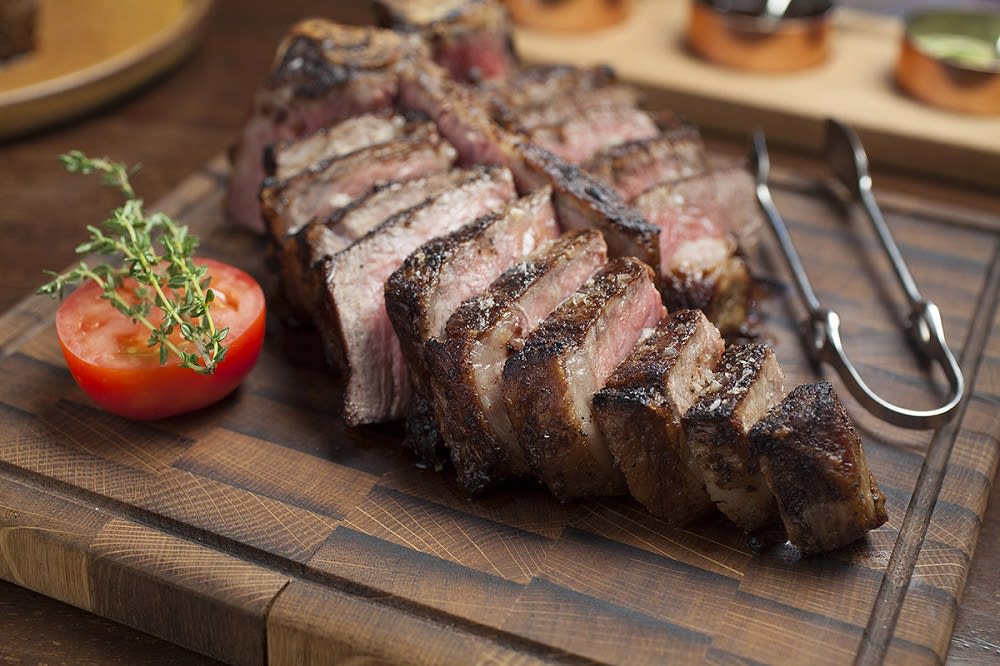 Credit: Meat On Ocean
Meat On Ocean
What could be better after a hard day of work than a juicy steak and a stunning Pacific Ocean view? Carnivores gather to delight in seafood, charcuterie, and steaks butchered on-site at Meat On Ocean. Prep your appetite with some beef carpaccio or roasted bone marrow with bittersweet onion jam. Seafood lovers can choose from Pacific Kiss or Rappahannock oysters and wild-caught Mexican jumbo shrimp. Pick from an array of cheese and cured meats to create a five or seven-item charcuterie board to share.

Now, we all know you're here for the beef but get some veggies in by grazing on a mixed green salad or sharing some asparagus and roasted garlic mashed potatoes beside your meat. Next up, the main event! The beef options feature steaks from Washington State to Kagoshima Kyushu, Japan, with a cut suitable for every meat lover's preference.

Opt for the Double R Ranch hand-cut filet mignon for a lean and tender cut, or go with the pricey and highly marbled American Wagyu ribeye from Snake River Farms for an unforgettable melt-in-your-mouth experience. Choose from several sauces to share with the table, or enjoy the meat as it comes. Pair your succulent chop with a rich glass of wine, and you've got yourself a dinner for the books.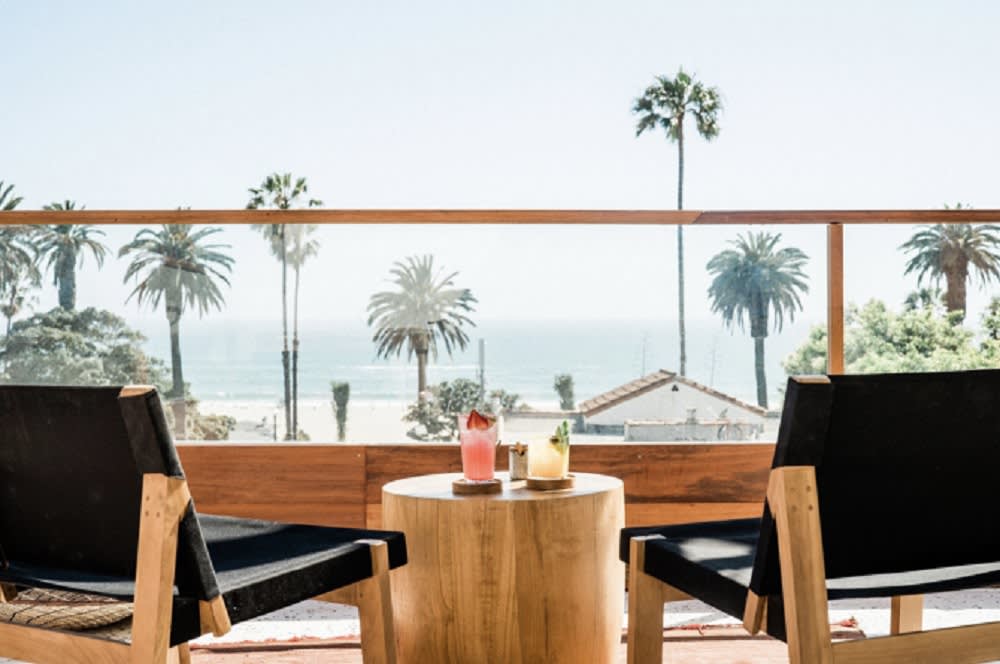 Credit: Santa Monica
Élephante
Élephante Beach House is a lively rooftop eatery that takes LA locals on a culinary journey to the Southern Mediterranean. The menu features light coastal Italian fares and fun, approachable cocktails made with an Italian twist. Given the restaurant is open from morning 'til night, a relaxing afternoon meal can quickly turn into a dinner date or late-night social outing.

Small plates are perfect for sharing and include whipped eggplant, Castelvetrano olives, mascarpone & prosecco arancini, and bigeye tuna tartare. Arugula salad is a classic and light palate cleanser, while the citrusy preparation of grilled octopus features hearts of palm, olives, capers, and tangerine. For a filling main course, opt for the polenta & mushrooms or 20 oz bone-in ribeye. Whether you prefer a glass of wine, a shaken or stirred cocktail, or even a punch bowl to share, Élephante has got you covered. Lobster pasta, burrata pizza, The Élephante cocktail, and more - you're sure to have a fun-filled evening at this fantastic restaurant.
1 Pico
Shutters on the Beach boutique hotel presents the California coastal restaurant, 1 Pico. This fine dining and brunch spot bears a cozy fireplace, a bar, and stunning ocean views. Savor a lobster benedict or salmon gravlax at weekend brunch while gossiping with friends over Pretty in Pink cocktails. Indulge a bit with some peach & blackberry cobbler or a luscious chocolate lava cake. Treat yourself - you deserve it!

Share current events with your sweetheart while sharing some crispy wrapped summer squash and blue crab tartine over dinner. The sweet summer fruit salad is a perfect way to prepare for what's to come. Opt for hearty lamb chops, or share the 36 oz tomahawk with your love if you're feeling ravenous. Seafood courses include halibut, king salmon, scallops, branzino, and lobster spaghetti. 1 Pico even offers a vegan farmer's market menu for plant-based people to enjoy! Fine food prepared with care, specialty cocktails made with style, and breathtaking ocean scenery make 1 Pico a cant-miss restaurant.
The Penthouse Restaurant

The Penthouse Restaurant, Credit: The Huntley Hotel


Perched atop Huntley Hotel, The Penthouse Restaurant boasts American fares and panoramic views of the Pacific Ocean and Los Angeles skyline. Lounge on beach cabanas while relishing craft cocktails and California cuisine. Stop by on the weekend with close friends for brunch or share an intimate and romantic dinner with your significant other.

Sunday morning is best spent with loved ones, sharing fresh-baked pastries and peach bellinis. The Penthouse Benedict takes the classic to another echelon by adding lobster and black truffle. For a hefty entree, choose between the grilled wagyu burger or steak frites. Come back for dinner to share artisanal charcuterie and a beet & goat cheese salad with your sweetheart.

Enjoy the filling short rib cavatelli or opt for the lighter Mary's Organic roasted chicken dish. Pair your mains with some farmer's market roasted vegetables and delectable potatoes prepared in two ways. Several signature cocktails will keep your taste buds delighted while you dine on classic American dishes. Make The Penthouse Restaurant your next dining destination.
Water Grill
Water Grill's menu changes with the ocean tides, keeping guests on their toes. This elegant seafood dining establishment offers extensive raw-bar options and a seasonal menu. Head here for a lunch of jumbo lump crap cake and oysters Rockefeller. Wash it down with an Ocean Avenue or Rosewood cocktail.

The raw bar is teeming with oysters from around the world, while the iced shellfish platters are perfect for sharing. For dinner, try the bluefin toro tartare to experience the most luscious and decadent tartare of your life. Follow up oysters and wild littleneck clams with a generous portion of Wild Barents Sea red king crab legs for an ultimate seafood feast. The menu also features timeless favorites cioppino and shrimp scampi. Pair your seafood-centric meal with some ice-cold beer or crispy, sparkling wine to round out your Water Grill dining experience.


Once you are ready to call West Los Angeles home, contact Santa Monica realtor and native Tracey Hennessey. Tracy's unrivaled regional knowledge and client consideration will indeed lead you to the Socal home of your dreams. You will be living the California coastal lifestyle in no time!