Buying real estate is an investment that can appreciate over time, especially with proper updating. A house that has been lived in for several years will undoubtedly have wear and tear and will depreciate to some extent. Before selling your lived-in property, you want to make sure that your home appeals to potential buyers. Even though your home may not sell for what you paid for it, several pursuits can ensure you see a significant ROI.
An ROI (return on investment) is an evaluation of the profitability or efficiency of an investment or a comparison of the efficiency of several investments. Concerning real estate, several factors come into play when figuring out the ROI of a property. Repairs and maintenance costs, painting, landscaping, advertising, appraisals, and commission to the realtor must be accounted for. Additionally, the leverage, or money borrowed with interest to make the initial investment, should be considered.
When purchasing a property, financing terms can greatly impact the overall cost of the investment. They say "one man's trash is another man's treasure," and real estate ROI is no different. What some real estate investors consider a "good" ROI, others may find unacceptable. These results vary based on risk tolerance. Those who are risk-takers do so in hopes that the payoff will result in a major ROI. Conversely, risk-averse people will settle for lower ROIs in exchange for a reliable result. Your prerogative will be a crucial element here.
It must be noted that ROI does not equal profit. A home must be sold before ROI cash profits are realized. Properties often do not sell at market value, and a house may sell for less than the original asking price, resulting in a lower final ROI on the house. There are several efforts to undergo that will not break the bank but will reap significant outcomes. Below are some beneficial upgrades to uptake to ensure you see a favorable ROI.
1. Landscaping
The gate, the garden, and the home exterior are the first areas house hunters will see when visiting your home. First impressions are everything, so be sure to spruce up your front yard to present a fresh and appealing property. According to FortuneBuilders, the average cost of a landscaping update is $4,900, with an ROI of 100 percent. Curb appeal sells homes, so you want to ensure you present a manicured lawn, colorful flowers, and a clean and organized garden space. Here are some great ideas to boost your curb appeal, and ultimately, your ROI:
Replace the front and garage doors. These projects are relatively inexpensive and provide an 85-100% ROI due to their high functionality and aesthetic appeal. Alternatively, painting these doors is cheaper and will still result in an attractive and clean appearance.
Apply a fresh coat of paint to your gate or fence.
Replace old plants, trim shrubs, and prune trees. Hire a professional if your yard has become unruly.
Add a low-maintenance water feature, such as a fountain or a pondless waterfall. This element will create a tranquil and refined focal point in the garden.
Drop a few hundred dollars on lush, green plants, perennials, and utilize planters along the walkway or any place you wish to draw focus.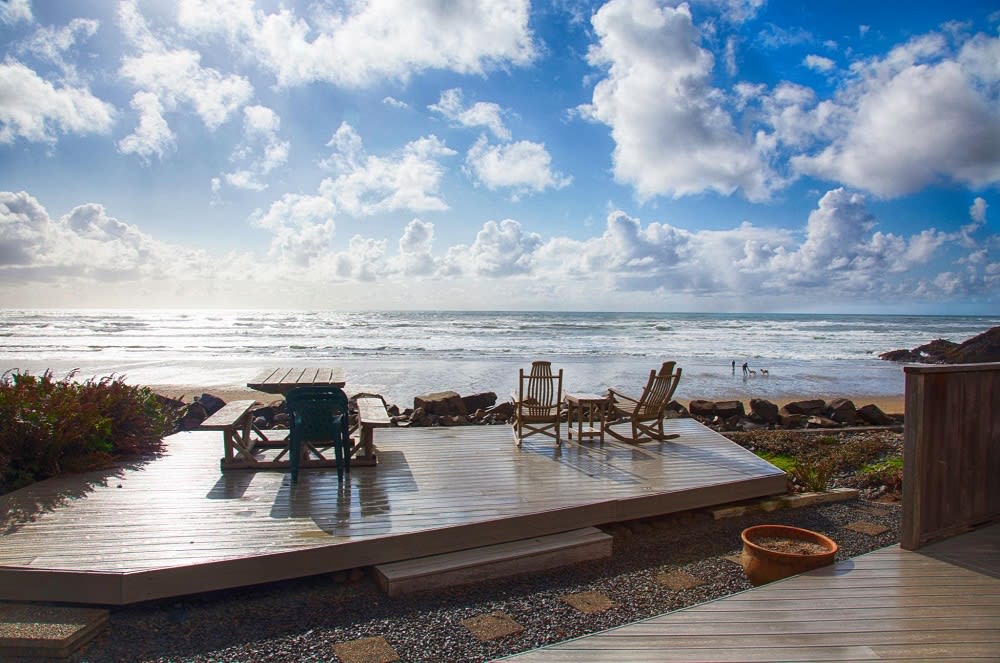 2. Deck Addition
Once you move past the landscaping aspect, you will want a lovely outdoor living space to add a substantial amount of perceived value to the home. A patio area is an excellent place for dinners on warm summer nights and post-work cocktails. The sheer liveability of a sleek and decked-out porch is a huge selling point for buyers, especially when we're talking about Santa Monica or Venice real estate. Beachside breezes and Socal vibes make patios worth their weight in gold.
Assuming you don't already have a patio and there's ample space for it, adding one is highly beneficial when selling your property and delivering a more considerable ROI. The average cost to add a deck is $11,000, with an ROI of 90.3%. If you already have a patio that just needs some tidying up, you'll spend less and still reap a substantial reward. Enhance curb appeal, make the property homier, and draw viable home buyers with these tips:
Create a slyish outdoor living space with a chessboard patio or tiled patio floor.
Add drop cloth curtains without rods or trellises for an element of privacy and elegance.
Add a wide surface atop the deck railing to create an outdoor bar area.
Build a covered patio with a fireplace for cozy autumn evenings.
Add a swinging chair or bench fit for snuggling up with a good book and glass of wine.
Take the outdoor dining area to the next level by incorporating a table with an integrated drinks cooler.
Wood decks are cheaper than composite, but either option will do wonders for your home's charm.
Power wash your existing deck or driveway to make it appear fresh and new.
Here are some additional ideas to upgrade your porch.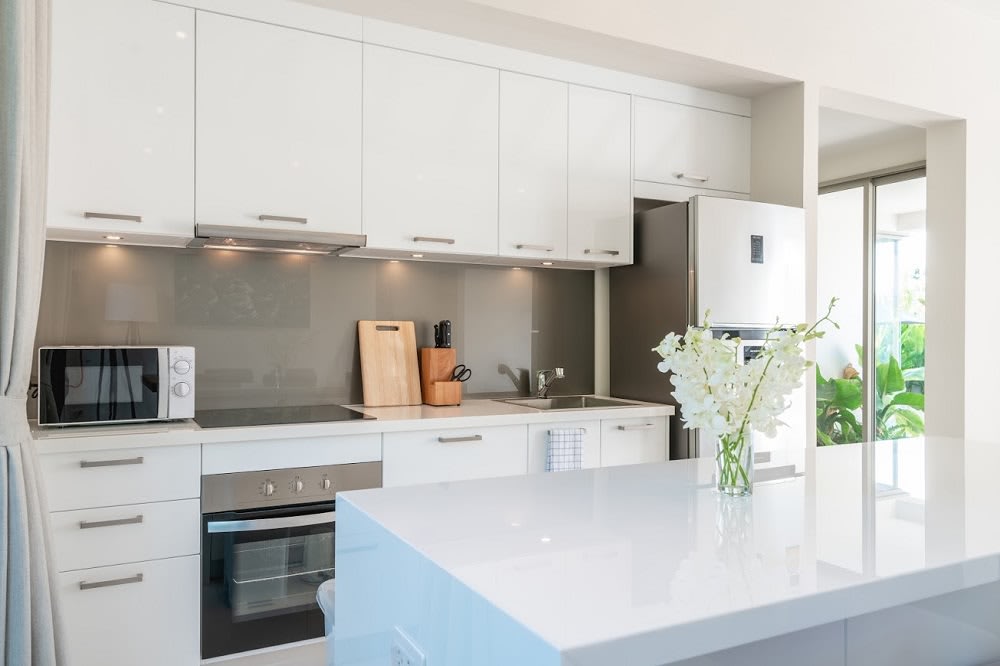 3. Minor Kitchen Renovation
Gutting your kitchen and starting to build from scratch will result in a 91% ROI on average, and believe it or not, doing a minor remodel instead will yield better results! Upgrading your kitchen instead of starting anew will accrue a 98.5% ROI on average and cost roughly $15,000. This is excellent news for your pocketbook and calendar, giving you more time to worry about other home selling tasks. See these guidelines to achieve a big return on a minor kitchen upgrade:
Replace appliances with better, new models, including your stove, microwave, dishwasher, etc.
Instead of replacing cabinets, apply a new coat of paint or gloss. Refacing cabinets is significantly cheaper than replacing them.
Purchase new cabinet hardware, shooting for shiny metal finishes and clean, sharp lines.
Install a new sink faucet.
Install new flooring. Linoleum or vinyl are affordable, while hardwood is pricier but adds a refined look.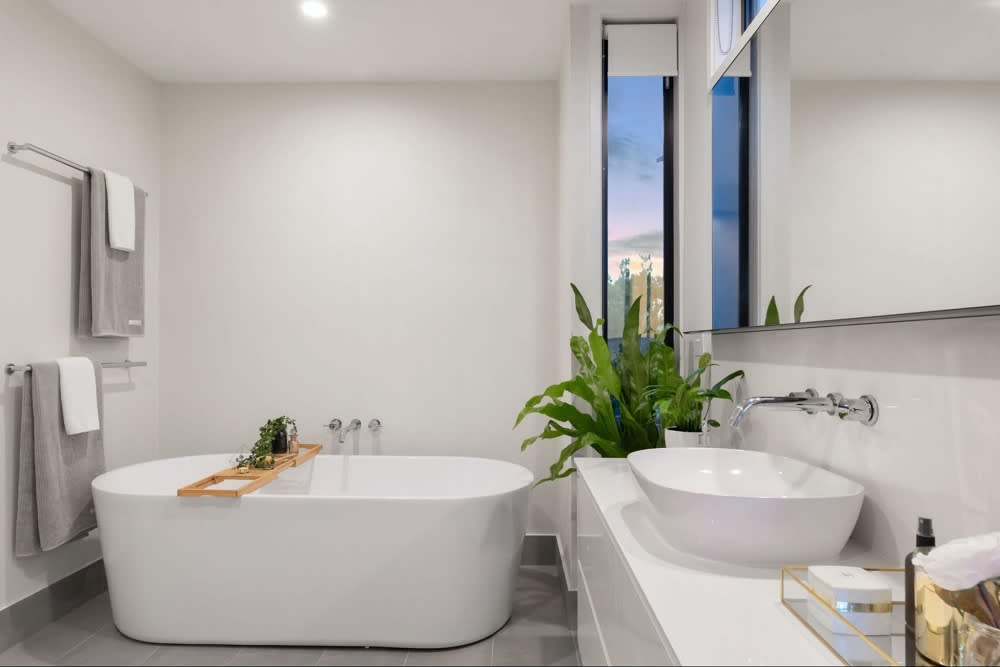 4. Minor Bathroom Renovation
Bathrooms and kitchens are two essential rooms to address when selling a house. The largest ROI comes with a minor bathroom remodel, averaging at 102 percent! This will cost you $10,500 on average, with a return of $10,700. Just like with the kitchen, there's no need to begin with a blank slate; you just need to make some calculated changes. The minor bathroom remodel ROI is considerable, so investing in bathroom detailing is better than undertaking smaller projects in multiple rooms. Try these changes for a significant ROI:
Replace the vanity.
Repaint and buy matching towels and accessories to create a theme.
Replace the old showerhead with a rain shower for added luxury.
Ditch the outdated lights for some new ambiance-setting light fixtures.
New, matching faucets, fixtures, and handles are inexpensive pieces that create a cohesive space.
Paint cabinetry or replace it if finances allow.
Refinish your bathtub to make your home feel less lived-in.
Touch up your bathtub by spot-fixing with these great tub repair kits.

5. Maintenance
Even more critical than bathroom and kitchen renovations are basic home improvements. You want to ensure the basic home structure is sound before undertaking the massive venture of home selling. Imagine remodeling the bathroom while your 35-year-old roof shingles are hanging by a thread. It is of utmost importance to handle structural issues before moving on to luxuries like kitchen cabinetry and showerheads. Consider securing these elements before moving on to fun design changes:
Roof replacement yields a 60-70% ROI.
Siding replacement delivers a 70-80% ROI. Fiber cement siding replacement is an excellent option as it mimics wood but is resistant to warping and rotting. Vinyl siding is suitable for homes that face extreme weather. Faux stone paneling is another attractive option that adds refinement.
Replace windows to add appeal and provide better insulation while seeing a 68-78% ROI. The insulation factor could be a key selling point. Wood windows will give the home a classic, elegant look and add resale value, while vinyl is an excellent, more affordable option.
Re-key your home for added security.
Re-caulking your bathtubs, sinks, showers, and toilets is inexpensive and easy to do yourself.
Paint your stained walls and remove peeling wallpaper.
Make sure your septic system, smoke and carbon monoxide detectors, and electrical are functioning properly.
Before undertaking these home improvement pursuits, speak will a qualified realtor. Your agent will know what you need to do to make your home more marketable. Their housing market insight and real estate savvy are pertinent to your decision-making.

Are you looking to boost your ROI on your Pacific Palisades real estate? With a professional and knowledgeable Santa Monica realtor like Tracey Hennessey by your side, you will indeed see a major ROI on your Los Angeles home.